If you're a new mother and considering expressing breast milk, getting the best breast milk storage bags in the UK will be your priority. Breast milk can usually be stored at room temperature for up to 8 hours. If it's in a refrigerator then it can be there for up to 5 days and in a freezer for even up to a year. If you are planning on storing your breast milk, then it is important to clearly label the various portions of milk with the date they were first placed there and the amount of milk they contain.
​



Thick BPA-free plastic;
Self-standing.
Large area for labelling the breast milk

Very durable
High capacity.

Leak-proof: secure double zipper

Very Low Prices
Easy to flatten for storage.

Screw top lid for security
An easy way to organise the stock of your breast milk is to use milk storage bags.
There are several amazing options for breast milk storage bags on the market today. Most, if not all of them, contain convenient easy-to-use labels that you can write on. To be honest – storage bags simple to use and are not the most complex items on earth. There are, however, some very important differences between them. Whilst they may seem similar, they all have subtle differences in their materials and design which result in huge impacts on their reliability and performance.
A good storage bag for breast milk:
should not leak;
should be easy to fill and empty;
can easily be stored in a freezer (preferably in as flat a position as possible, allowing you can stack them on top of each other).
These are the most important features. There are also some additional qualities that can make one storage bag more appealing for you such as biodegradability, ease of labelling or clear markings for the volume of milk inside.
Why people use breast milk storage bags?
they take less space in the freezer than a bottle;
milk thaw faster in the bag (an important factor when holding a hungry screaming baby).
Most Popular & Best Breast Milk Storage Bags
These bags are made of thick and high-quality BPA-free plastic which is also biodegradable. They feature reinforced bottoms that prevent leaking and two zip lock seals. The measurements on the front of the bag go up to 6 oz but if you are not planning to freeze the bag you can overfill it.
They can easily be thawed and re-frozen without opening up leaks. The wide opening of Honeysuckle bags makes them easy to fill and their quite large size enables to easily flatten them for storage when filled with 6 ounces of breast milk. This definitely is the most eco-friendly option and also available at great prices on your pocket.
Other Features.
Pre-sterilised Breast Milk Storage Bags made from food safe polyethene with gusseted bottom to allow for expansion can stand or lay flat.

Leak proof, with a double zipper for a secure seal, ensuring safe freezer storage.

Convenient write-on tab above the fill-area to keep track of your milk stock. Tissue pack dispenser for easy access and storage.

Pump directly into Lansinoh's milk storage bags from any Lansinoh breast pump.
---
Medela Breastmilk Storage Bags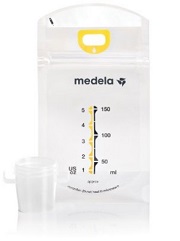 For those who use Medela breast pump you may, it may seem obvious to just buy their storage bags. They can be used directly with the pump and have accurate graduations of the front. However, due to several issues, you may want to consider other bags.
During testing, about ten per cent of fifty bags sprung leaks when thawed from frozen usually around the bottom corner. The seams of the bag are very tiny and this may make them very fragile. These bags are also notoriously difficult to pour the milk from due to the little holes in the upper part of the bag (used for attaching the breast pump).
They can work out to be reasonably priced.
Other Features.
Medela pump and save bags ensure safe freezer storage

Breast milk bags are pre-sealed and great for breast milk storage

The storage bags have a large area for labelling and dating to keep track of your breast milk

Medela milk storage bags are great for freezing and Medela bottles can also be used as breastmilk storage bottles

These storage bags are BPA free
---
Tommee Tippee storage bags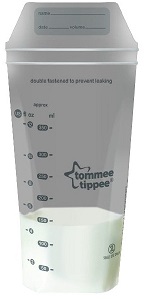 These storage bags can be said to have the biggest capacity of all breast milk bags. The Tommee Tippee storage bags come with a double zipper and are made with thick plastic. The zipper is very strong which provides secure lock but also can cause some problems.
Out of 50 tested bags, two bags leaked on the side after thawing them, with four ripping from the zipper while opening. Overall they may be a good choice if you plan on storing large amounts of milk but just be careful when opening them.
Other Features.
Express directly into a pre-sterilised pouch using any pump you like

Pouch clicks securely to in pump and bottle so no need to transfer milk

Single-use pouch, pre-sterilised for complete safety

Screw top lid for security whilst stored in fridge or freezer

Fits pumps from all major brands using Express and Go breast pump adapter set

---
NUK Seal 'n' Go Breast Milk Storage Bags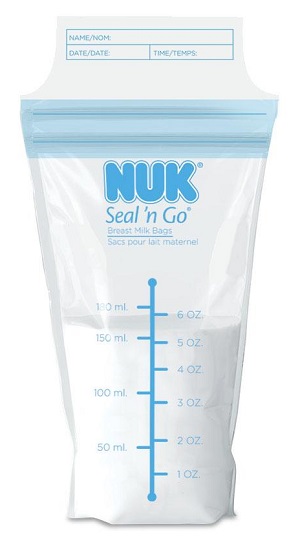 These self-standing bags are made of thick, high-quality BPA-free plastic. These are the thickest breast milk storage bags of all those tested. They have large seams that make them less prone to leakages after being stored in the freezer and a reinforced bottom for stability and protection.
Of all the bags tested, none of NUK's bags leaked which says a lot about their quality and reliability. The large area for notes offers plenty of space to label the bags. It's worth mentioning that NUK's Seal 'n' Go bags are bestsellers in most online stores due to exceptionally low price.
You can often get them in 50 bags and 100 bag volumes.
Other Features
Designed for collecting, storing, and freezing breast milk, these bags are 100% leak-proof with double zipper seals.
NUK's milk storage bags are freezer safe and self-standing, so easily sit or lay flat on your freezer shelf until ready for use.
The oxygen barrier permits breast milk to stay fresh during storage.
NUK's milk storage bags come with HPA Lanolin for Breastfeeding Mothers, one of the most highly recommended nipple creams by lactation consultants.
Safe for both mom and baby.
---
Dr Brown Breast Milk Storage bags
Dr Brown's breast milk storage bags are made of thick and sturdy BPA-free plastic. These self-standing bags have double zipper seals that prevent any leaks. Dr Brown's bags are also very well marked for accurate measurement on the front and feature a large label area on the top.
The Dr Brown bags are not cheapest but are well made and come from a reputable manufacturer. Two out of 50 leaked in our breast milks storage bag tests. Both after thawing.
Other Features
Great texture compared to the lower priced brands.
External measurements to help predict how much breast milk needed.
Great value.
---
Phillips AVENT Breast Milk Storage Bags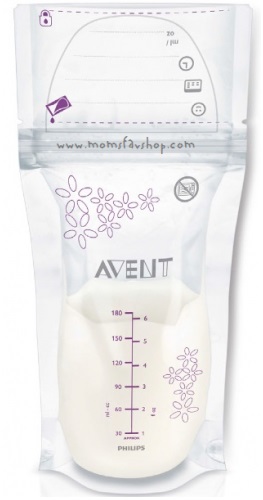 Phillips Avent Breast Milk Storage Bags possess exceptionally generous seams which along with the thick plastic they are made from ensures durability. None of the bags tested in our review leaked and you would really have to try hard to break it open.
The area for labelling is large which is an additional bonus. One of the unique things about Avent bags is that the labelling section of the bag can be easily torn off. This allows the easy pouring of the milk directly from the zipper area of the bag and reduces the chance of accidental spillage of your liquid gold.
These BPA-fee bags are definitely worth a purchase if you're planning to freeze your milk.
Other Features
BPA free

Leak-proof: secure double zipper

Completely hygienic: pre-sterilized; tamper evident seal

Strong and durable: reinforced seams and dual layer bag

Easy to use: self-standing bag, wide opening for easy filling and pouring
---
EBELBO Breast Milk Storage Bags 
This breastmilk storage bag has already been pre-sterilized and is not affected by any bacteria, you can just get one and use it immediately

Safe Material: Made of food-grade polyethene (PE), BPA Free, non-toxic, freezer safe

Self-standing: With a solid standing base, the bag can be kept upright in the fridge, flexible and compact

Reinforced seal & Leakproof: Double-sealed zippers for extra security and durability, to protect the precious liquid gold from leaking and spilling

Convenient and easy to use: Designed with a perforated line for easy access, wide opening for easy filling and pouring. Marked with accurate measurements. Perfect for any parents with a breastfed baby
---
Ameda Store'n' Pour Milk Storage Bags 
The Store'N Pour Breast Milk Storage Bags feature everything a mother could want:
Main Features:
Easy-close zip seal so bags won't leak
Unique tear-and-pour spout helps prevent spills during milk transfer
Gusseted bottom allows filled bag to stand on its own
No more sticky tape or twist ties- unique flange adapters easily attach to pump kits and channel milk flow below the zip seal to prevent milk loss
Freezer safe
Without BPA and DEHP
---
BiMirth
Breast Milk Storage Bags
PRE-STERILIZED: Breastmilk Storage Bags come pre-sterilized so they are ready to be used right away. BPA FREE, Protect your newborn from harmful chemicals like phthalate, bisphenol A (BPA) and lead.

DURABLE DOUBLE-LAYER MATERIAL: These ready to use breastmilk storage bags are constructed from a durable double-layer material are equipped with double zipper seal as well as reinforced side seal, prevent leaking. These bags safely store breastmilk in the freezer, fridge, or when travelling.

FREEZER SAFE AND SELF-STANDING: you can either keep the milk storage bags flat to make the space more efficient or keep it standing upright for Breast Milk Storage bags safely store breastmilk in the freezer, fridge, or when travelling.

Quality design:Breast milk storage bag left and right corners are each easy to cut and size, which can control the flow rate of pouring, without secondary pollution.

Self-service design: The large capacity 8oz design stores more baby breast milk. Shopping, travel and work are easy to store and carry-standing and come with a large write-on area, so you can document the date and other vital information for safer storage and use.
---
It's hard to state unequivocally which company makes the best breast storage bags. Bags by Medela, NUK, Avent and Tommee Tippee made our best-rated list. Dr Brown bags are a great choice for more eco-centric parents while the breast milk bags made by Avent seems to offer the best protection for the liquid gold content. NUK bags offer excellent value at an excellent price.
Benefits of using breast milk storage bags
Storing breast milk in bags can bring lots of benefits, not only for you but also for babies. The experts speak of five fundamental reasons that make the use of these bags prevail over other storage devices and are:
You can freeze or heat them without problems, they are thicker than the average storage bags.
It facilitates the spill thanks to its special design.
They are carefully designed for storage.
Most modern breast milk storage bags are free of BPA.
They maintain the quality of your milk, they are free of bacteria and germs.
Additional tips for proper breast milk storage:
never refreeze breast milk
store milk in smaller quantities – less waste if unused
store breast milk in the centre of the refrigerator or freezer not on the door – less contact with warm air
never thaw in the microwave – use warm water or bottle warmers.
What to consider when choosing
Before choosing one, it is essential that you look at a series of qualities that will make your selection more accurate and you can ensure that you have the right model on hand and that it suits your needs, so before buying, it is essential that you look at these details:
Durability
This quality is measurable with the thickness of the bag. If your purpose is to store the milk to freeze it then you should make sure it does not leak. A thick bag will be more durable than a thin bag.
Harvest
Generally, these devices are filled through two systems. Or you pump directly into the bag, or you do it in a bottle and then into the bag. You should go with the one you find most comfortable and practical.
Size
It is advisable not to fill it beyond its capacity because however resistant they are if you overlap it will be more prone to leakage. You should check which of the sizes works best for you. They come in sizes of 4 ounces and 6 ounces.
Seal
You should avoid union seals or labels because they are more prone to leaks. I recommend screw caps or double zippers.
Easy to use
A bag that is not difficult to fill and that is thick and with a pouring spout will come in handy. Do not complicate your life.
Safety
Given the delicacy of the content, you must ensure much of this point. I recommend you go with a brand of remarkable reputation with all its certifications.
System
This refers to storage. The good is that you get everything in one. Bag and breast pump to do all the work at once.
Pre-sterilized
You must make sure that they have this feature. The opposite can be an unnecessary risk to the health of the baby or a lot of complication for your lives.
Measurable
Babies usually drink certain amounts of milk, so a bag in which you can measure the content is a very useful idea. So you can pour into the bottle only the amount that the child will drink.
Foot function
Since they will surely go to the refrigerator or freezer, the fact that they can sustain themselves without having to put them in a horizontal position which carries risks of leakage. This quality is essential because you can place it in the fridge or countertop without worrying about falls and spills.
Compatible with a pump
Some bags come package all in one, but if it is not the case you must make sure that the selected one is compatible with your milk extractor pump.
Ready freezer
Given the storage levels, you have designed for these bags the most advisable is that you decide for a group that is resistant to cold and able to get into the freezer. It will facilitate your life, storage, it will last longer and you will be calmer.
It is sold in a dispenser
This allows compact storage and undoubtedly takes away from problems and complications